I live in Melbourne, Australia, and over the past 6 years I have worked across health services and in state government to improve the way that health care is delivered to Victorian communities.
Today marks the beginning of a second lockdown for metropolitan Melbourne and the Mitchell Shire. For the next six weeks stage 3 restrictions apply – we must stay at home, only leaving to shop for food and supplies, provide care and caregiving, exercise, and study and work if we can't do it from home.
The number of patients currently hospitalised with COVID-19 in Victoria is just shy of the peak number of cases we saw treated in early April. Health care workers in a number of major public Melbourne hospitals have tested positive, along with staff in a number of aged care facilities.
There are a range of scenarios for how the coming 6 weeks may unfold; each holds varying implications for health services both in the short term and over the next 12 months. Here I'll be referring to a set of scenarios developed by Paul Higgins to elicit some questions for Victorian health services to consider as they once again prepare for a influx of presentations associated with COVID-19.
Scenario 1: A significant fall in case numbers in one week
Imagine this scenario has come to pass.
Short term considerations
The wave of cases you prepared to treat subsided prematurely.
How did you decide when to release resources on standby for COVID response?

How did your staff feel at the end of this lockdown period? What did you do differently to support them transition back to regular care?
Longer term considerations
Further outbreaks have spread further before restrictions are put in place; people have lockdown fatigue and increasingly bend the rules.
What early signals of change is your health service watching to prepare for an increase in presentations?

What portion of your services are provided by telehealth?

How have you prevented complacency in infection control practices?
Scenario 2: A significant fall in new case numbers over 4-5 weeks which allows restrictions to be removed.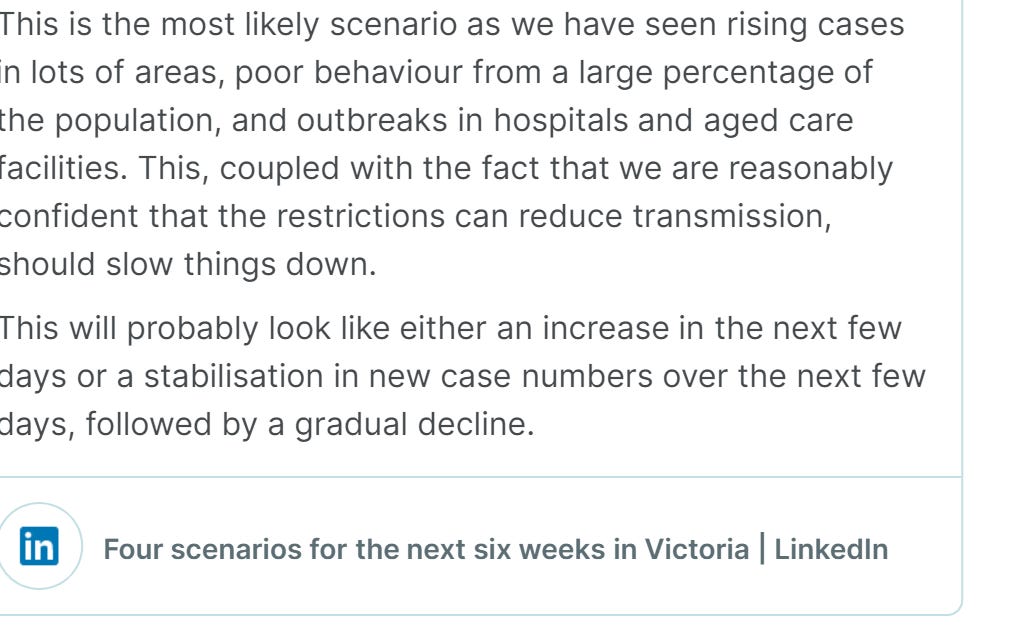 Short term considerations
There were a few weeks of increased COVID-19 presentations, which slowly tapered down.
How did your service create capacity for these presentations? What did you start doing? What did you stop doing?

How did you protect your staff from exposure?
Longer term considerations
There is a growing tension between responding to intermittent outbreaks and maintaining timely access to care.
What services have greater delays in accessing care now than in pre-COVID conditions?

What becomes easier with each subsequent outbreak?

How have you adapted your procurement patterns?
Scenario 3: A Slower Fall in case numbers which allow partial reversal of restrictions
This scenario resembles the phases of outbreak seen in South Korea.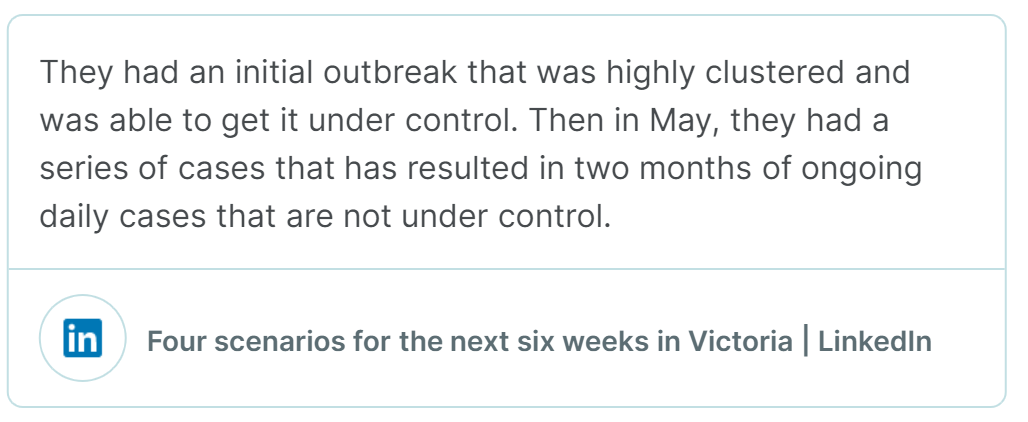 Short term considerations
Rates of presentation stayed steady during the July lockdown, with a slow but steady increase as some restrictions rolled back.
How did you adapt your strategy as restrictions began to be lifted?
Longer term considerations
We are learning to live with low-moderate levels of community transmission.
How has COVID-care been integrated into your service model?

What new practices are now routine for providing care to all patients?

How safe do your staff feel coming to work?
Scenario 4: A regional/city reversal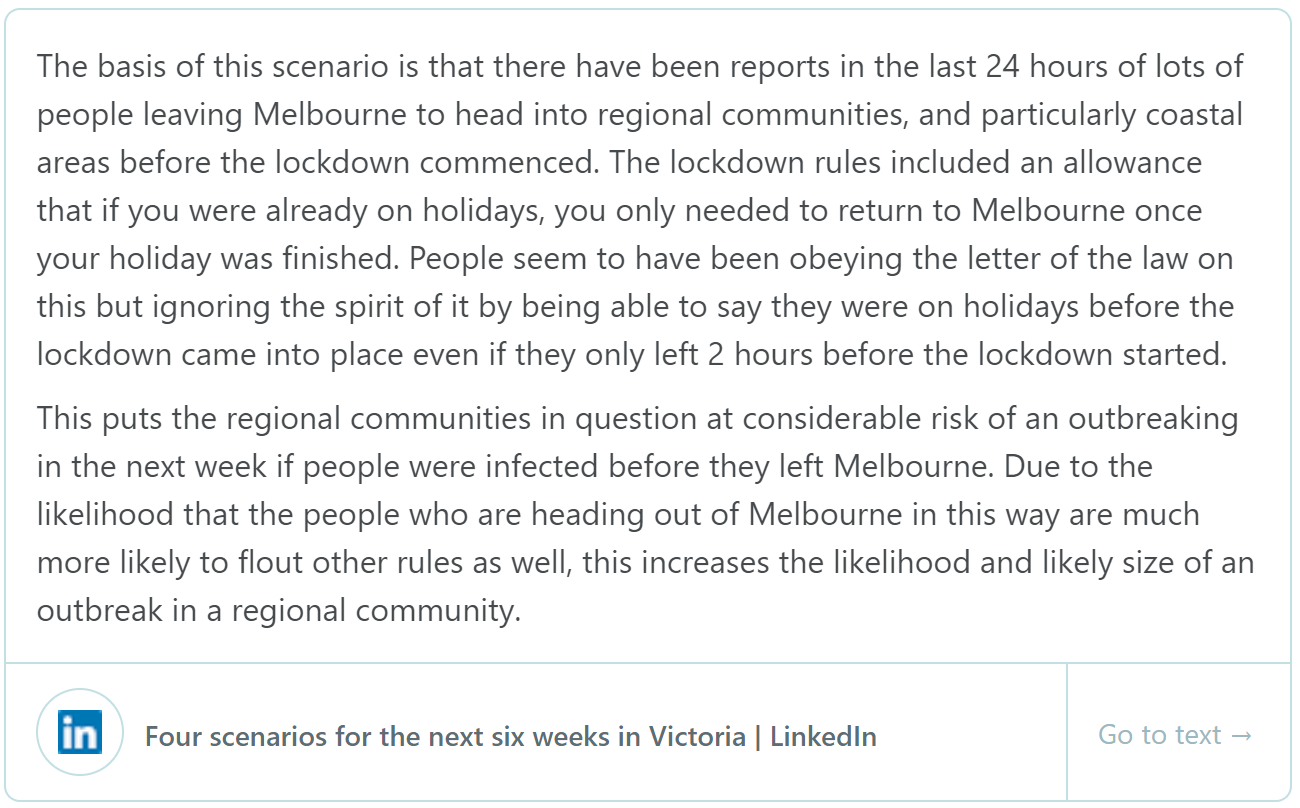 In early August, a number of regional health services quickly became overwhelmed as outbreaks erupted in population centres; at the same time case numbers in Melbourne began to fall.
How did this impact patient transfers in and out of your service?

What support did you provide to other services in need? What assistance did you seek from other services?
Conclusion
What comes next is yet to be seen.
Different health services will be impacted different ways. I have framed these questions from the perspective of a hospital, but these can be contextualised for the specific needs and circumstances of different services.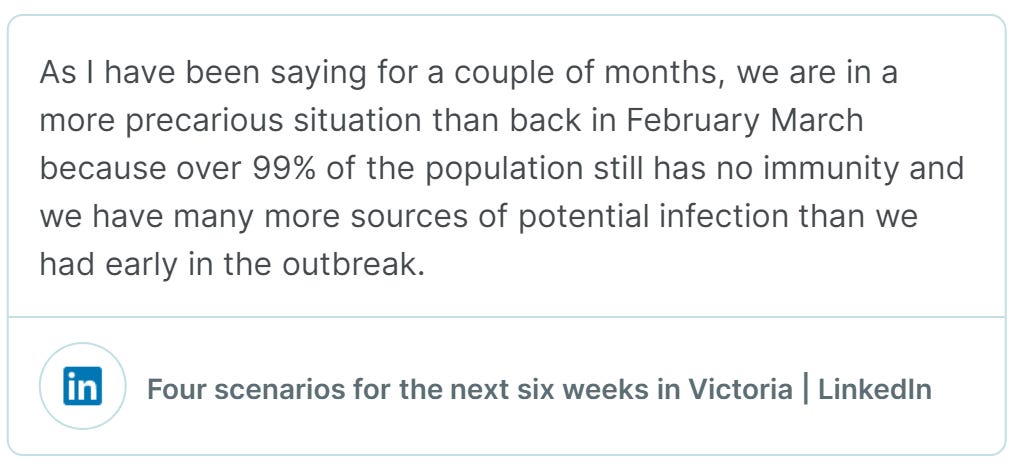 Though these prompts are being offered in response to the unfolding situation in Victoria, services in other Australian states and territories would do well to consider their own responses in preparation for future outbreaks.
What emerges over the coming months is unlikely to be as neat as a straight line scenario, and more likely to resemble a patchwork of shifting states as cases rise and fall. Consider how your service might respond in a range of differing contexts, keep an eye out for early signals of change and hold your plans lightly.