I have always loved playing games.
I find them really nourishing, the way they invite us to put down who we are day to day and play with being another way, in another place, in another time.
For a long time, I've dreamed of designing games as a way to take interesting ideas and make them something we can experience and play with.
Despite this dreaming, my game design efforts mostly resulted in half-sketched ideas scattered across notebooks and to-do apps.
When I joined the Masters of Strategic Foresight, I was fortunate to be part of the final cohort taught at Swinburne University. Logistics of teaching out the MSF meant that I went through the course ass backwards, starting with the capstone unit that brings together all the content (none of which I'd yet learned) and turn these ideas into facilitated processes.
I was hooked.
The art of digging into an interesting idea, reimagining it as something that others can experience, and guiding them through a process fascinated me, and led me to include facilitation as a core part of my practice.
Fast forward to April this year. I'm still interested in game design, but I've channeled most of that energy and enthusiasm into designing facilitated processes.
That is, until I see this:
​Amble Studio's Game Design for Facilitators helped me take what I've learned about designing facilitated processes and to leverage that for designing games. I still had some internalised resistance, so I got additional mentoring from this incredible crew to help get over the hump from idea to prototype, and bring my first game into the world.
Meet my first game!
Greetings from Polakvale is a reimagining of The Polak Game or Where do you Stand? as documented by Peter Hayward and Stuart Candy.
Polakvale is made up of distinctive neighbourhoods with their own shared identity and ways of doing things:
Too-Good-To-Be-True-View where the town is the best it's ever been, and we can all have a hand in making it even better.
It's-Going-Downhill-Ville where the state of things is generally getting worse, and we all need to pitch in to turn things around
No-Way-Out-Ton where things are slowly getting worse, and there's not much to do about it
It's-Out-Of-Our-Hands-Land where things are good and getting better, thanks to a local council that gets it right more often than not.
As daily life in Polakvale unfolds, we see how different neighbourhoods respond to different challenges, and explore what it's like to visit another part of town.
The thinking behind the game
Greetings from Polakvale and The Polak Game bring to life a passage from The Image of the Future. Frederik Polak describes the role that optimism and pessimism play in shaping our images of the future, and creating the underlying reasoning and logic of how we understand the world works: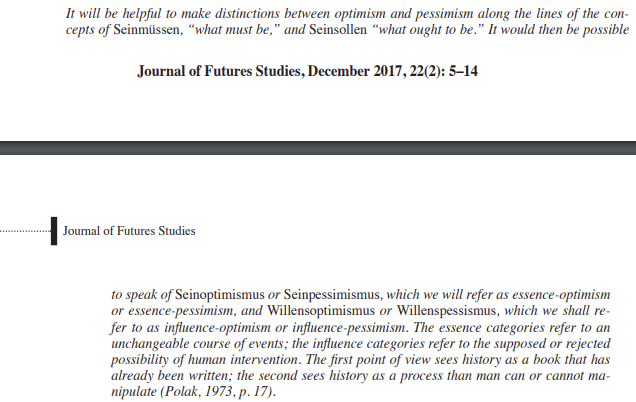 It's a perfect case for the type of games I want to create, making foresight more available to a wider range of folk by creating games for you to experience ideas about the future using plain language.
Want to visit?
I'm running a few playtesting sessions before finalising the game design and releasing it at the end of the month. I'd love to have you join me!